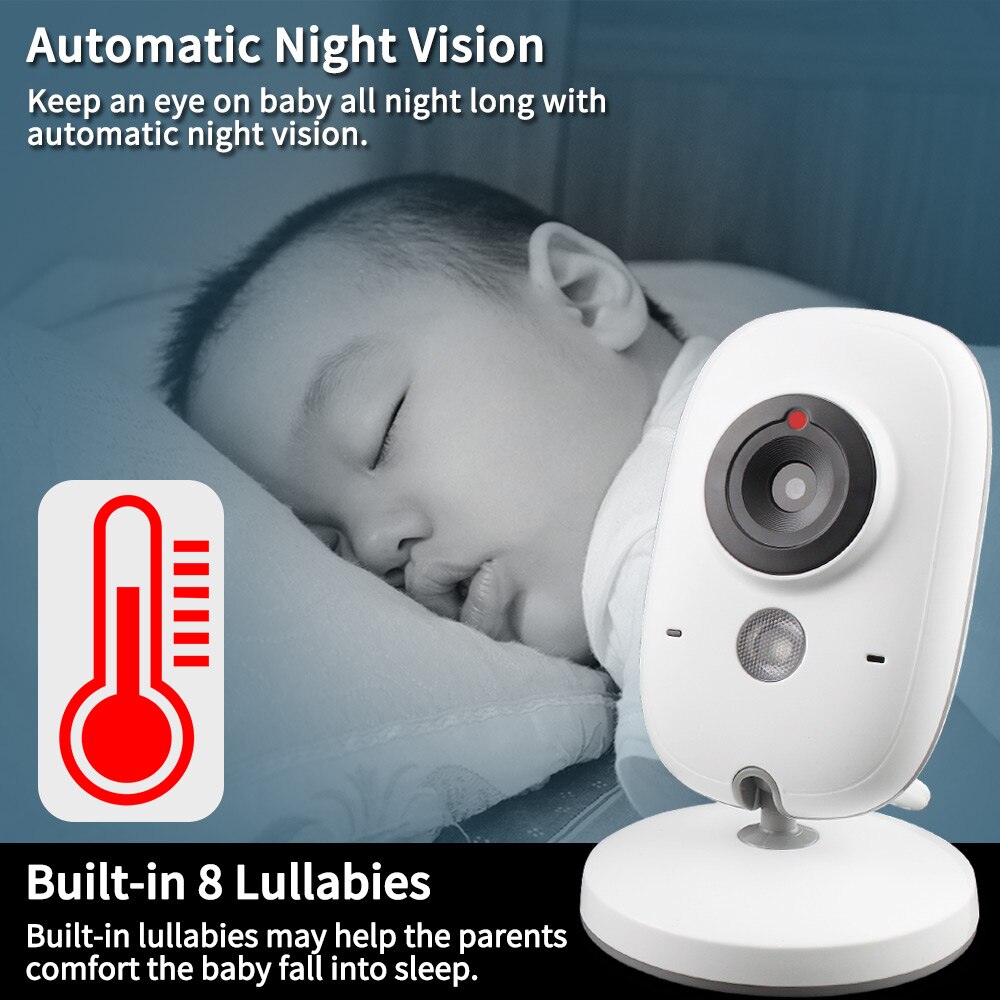 PRICE: US $61.74 without shipping price
The baby video monitor lets you keep an eye on your baby! Listen to your baby with crystal clear sound quality!
Equipped with a 3.2″ LCD screen and connected to the children's camera via advanced 2.4GHz wireless technology, clearly shows our children without Wi-Fi interference.
You could talk to your child to comfort him/him via the talk button when he/she is crying.
Makes it convenient for parents to see the baby at any time!
A high-sensitivity microphone allows parents to monitor every movement, voice or noise from the child.
Using improved 2.4GHZ wireless technology prevents signal interruption. The monitor covers a transmission range of up to 50m indoor, 260m outdoor without barriers.
With the temperature sensor, it monitors the temperature of the baby's room all day, helps to cure baby's health.
The baby video monitor has excellent video and audio.
It allows you to take care of your children in the dark, keeping an eye on the baby all night with automatic night vision.
Up to 24 hours in VOX mode.
Support for multiple languages: English / French / Spanish / Portuguese / Italian / German / Turkey / Russian
Features
Hassle-Free Portable MonitoringTwo way(talk back)
Temperature monitoring
Built-in lullabies in the camera
Automatic night vision, night monitoring
Secure, interference free, long range digital signal
High contrast 3.2″ color LCD monitor
Long battery life (18 hours in Vox mode)
Built-in lullabies may help the parent comfort the baby fall into asleep.
Know your baby's room temperature all the day long without worries!
Two way audio between the camera and monitor, you can talk back to baby.
Keep an eye on baby all  night long with automatic night vision,night monitoring
No need to charge the battery for the monitor In the whole night in Vox modeSpecification 
GENERAL
Transmission Frequency: ISM 2400~2483.5 MHz
Transmission Power: 17dBm
Unobstructed Effective Range: 160ft/50m indoor/850ft/260m outdoor, line of sight
Spread Spectrum: AFH & TDMA
Modulation Mode: GFSK
Operating Temperature:  14 ~ 122° Fahrenheit/- 10 ~ +50° Celsius
Operating Humidity:  <85% 
MONITOR
LCD Size:  3.2″
Resolution Supported:  320 x 240
Receiving Sensitivity:  -90dBm
Consumption Current (Max.):  200mA5,Battery:  Li-polymer / 750mAh, 3.7V
Power Supply:  5V/500mA DC7,Dimensions (W x H x D):  70mm x 120mm x 17mm
Weight:  0.08kg 
CAMERA
Image Sensor:  CMOS
Total Picture Pixels:  640 x 480 pxl
Minimum Illumination:  0 Lux (IR on)
Night Vision Distance:  15 FT (5m)
View Angle:  Diagonal 45°
Power Consumption (Max.):  200 mA
Power Supply:  5V/500mA DC
Dimensions (W x H x D):  67mm x 106mm x 67mm
Weight:  0.4 kg 
Packge included :
1 x 3.2" LCD Receiver1 x Wireless Camera
2 x Power adapters
1 x User manual
Note: This Baby Monitor comes with retail box